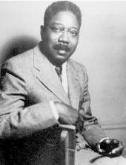 A native of Topeka, Kansas, Aaron Douglas is regarded by many as the "Dean of African-American painters." He was born in 1899, raised in North Topeka and graduated from Topeka High in 1917. At Topeka High, he was designer for the cover of this senior yearbook and was already well-regarded as an artist. In 1926 he married the love of his life, Alta Sawyer, also from Topeka.
After graduating from the University of Nebraska at Lincoln and a short teaching stint at Lincoln High in Kansas City, Aaron Douglas went to New York in the 1920's to study with Weinhold Reiss. Douglas became a leading visual artist in the "Harlem Renaissance" or "New Negro" Movement. His work was published regularly in The Crisis magazine, he also illustrated for Opportunity and Vanity Fair. In 1934, Douglas was commissioned to paint a series of murals "Aspects of Negro Life" by the 135th Street Branch of the New York Public Library though a WPA grant. Our mural "Slavery Through Reconstruction" was the third in that series and hangs today the same building where it was first displayed, now called the Schomberg Center for Black Culture. In 1937, he accepted an invitation to join the faculty at Fisk University in Memphis where he became the first dean of the art department, a post he held, continuing his art and mentoring literally thousands, until his retirement in 1966 and after then until his death in 1975.
Aaron Douglas Celebration Mural, Art Park and Art Fair
1996 -1998 Washburn-Lane Parkway corridor (5th through 21s Streets) planning begins through the TurnAround Team. They meet with neighborhood groups, in town-hall meetings and with Dillon's about visions for the future. The possibility of Dillon's donating land for a park and allowing a mural on the back of the store come up. The TurnAround Team settles on the Washburn-Lane Parkway project plan and begins to raise money for the pedestrian lighting component and develop other specific projects to implement.
1999 – 2005 The Parkway Plan becomes part of both the City's general Comprehensive Plan and Trails Plan. A $23 million Library upgrade is completed, over $2 million in additional private improvements – from new roofs and repaired porches to infill construction to public gardens – are documented along the Parkway. Three segments of lighting go in – stretching from 10th Street to 21st Street. Sidewalk cleanups involving neighborhood residents and students from Washburn University begin, very successfully, at least once per year.
November 2003 Parkway Committee member Don Rice writes to the head of Kroger's and gets an affirmative response about developing a mural on their property; member David Leamon finds an Aaron Douglas print in the Library's collection. A mural project is quickly "on fire". Various of Aaron Douglas's powerful works are vetted for feedback from the community, contacts are made with Aaron Douglas's family members in Topeka and others for support and permissions to use the works.
April 2004 A kickoff fundraiser reception, keynoted by Howard Dodson from the Schomberg Center in Harlem (home of Topeka's selected work), was held at the Library. It was fun, was attended by an exciting representation from Topeka's African-American community and more traditional arts donors, and over $10,000 was raised. Dillon's did donate a quarter block of land for the project. Eventually over $70,000 was raised, with over 25% of the 125 donors being from the Black community.
March – May 2005 The mural wall was built. Over 100 volunteers, young and old, painted the mural on the wall under the supervision of artist David Loewenstein, with support from artist Stan Herd as well. Prior to the beginning of the painting, Dave Loewenstein presented a slide presentation and talk about public art and Aaron Douglas to classes in the five schools who were most involved in the project. Topeka High created a studio for preparation of the working drawings. The press and the community were very supportive.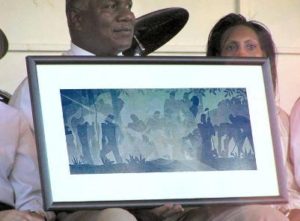 May 2005 Landscaping and a serpentine sidewalk, paid for by the TAT and installed by the City, including the now-famous "sweet spot", was installed by the City. Four "story boards" about Aaron Douglas and his work, black neighborhoods in Topeka, and the donors for the project were installed.
The Wall was dedicated, with a huge crowd of people, great music and accolades, and a lot of joy. During the course of that week, the TAT recorded oral histories from a number of people who had been involved with the Wall, including people who had grown up on the site.
June 2013 Through a partnership effort of the Tennessee Town neighborhood, the Aaron Douglas Art Fair, Dillon's, the City and the TurnAround Team, improvements are made to the art fair site. The alley that divides the site is removed and planted with grass, a sidewalk along the entire north edge of the site, connecting the site for the first time to sidewalks to the east and to the west, and a connector sidewalk from the north sidewalk up to the mural and storyboards are both installed.
2006 – present Starting in spring of 2006, the working group for the mural and park development reconvened and, with an idea again credited to member Don Rice, began plans for an art fair on the mural site in September of each year. The idea was to carry on the legacy of Aaron Douglas by providing a juried art fair opportunity for diverse and emerging artists, and to strut our stuff and show that we could have a first-class and fabulous art fair in the middle of the city. In very little time, use of the rest of the south half of the block was arranged with Dillon's, underwriting was raised, and a call for artists went out. That first year, there were 19 artists, a Kids Zone, a main stage with "big" music and a few local businesses with food booths. By 2010 we had expanded to over 30 artists, added a "legacy" stage for acoustic music and other performing arts, added a featured artist dimension, added an interactive art feature, and had shifted to neighborhood groups as food vendors. We were up to about 2,000 visitors. Our fair is still free, the art just keeps getting better and more varied, and all food remains fabulous and not more than $5
Since the development of our mural and our first fair, art has been exploding in Topeka. The Great Mural Wall was started by one of our member neighborhoods, murals have sprung up in many other locations and are now a police department initiative, and painting on utility boxes (with permission) has popped up all over the city through the Safe Streets movement. The NOTO Arts District in North Topeka started in 2010 and has grown beyond anyone's imagination to be a vibrant place for studios, galleries, sales, events and networking. Many of our artists, whose first public experience was the Aaron Douglas Art Fair, have migrated to NOTO and other opportunities with great success. Big outdoor music festivals have developed at the Ward Meade Park, in Hi-Crest, in Cushinberry Park, in a variety of other venues and downtown since our Fair first stepped out and broke ground. Many other housing and amenity improvements have happened on the Parkway and immediately adjacent to it.
Help us support more artists by donating to the art fair at our PayPal link. 
Please Join the Fun at this years Aaron Douglas Art Fair on Sept 23rd from 10 AM to 5 PM at the Aaron Douglas Art Park at 12th and Lane.